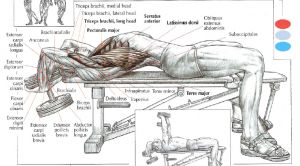 I read a Frederic Delavier's book « Strength Training Anatomy » and I learned good stuff.
Lying on a bench with your feet on the ground. You take a dumbbell with both hands and your arms outstretched. The dumbbell is on your palms and your thumbs and forefingers encircling the handle:
Inhale and lower the dumbbell behind your head by slightly bending your elbows

Exhale returning to the starting position
This exercise work pectoralis major, triceps long head, teres major, lats and a little bit serratus anterior, rhomboids and pectoralis minor. The serratus anterior, rhomboids and pectoralis minor have the function to stabilize the scapulae (shoulder blades) and to allow the humerus to tilt over a stable support.
It's possible to do this exercise only to open the rib cage. To do this, work with lightweights and be careful to not bend your elbows too much. And it's necessary to use a bench in a transverse position so that your pelvis is lower than your shoulder girdles. It's important to inhale as much as possible at the beginning of the movement and to exhale only at the end of the movement.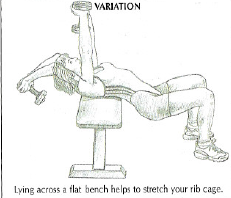 Share this article if you think it can help someone you know. Thank you.
-Steph