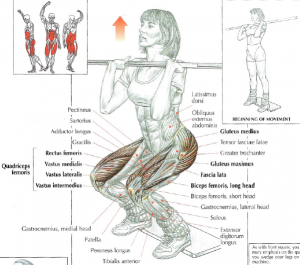 I read a Frederic Delavier's book « Strength Training Anatomy » and I learned good stuff.
Standing with your feet apart at about the shoulder's width. You take the barbell with a pronated grip and you put the barbell on your upper chest and your anterior deltoid :
Inhale deeply to maintain intrathoracic pressure that prevents your torso from sagging forward. Arch slightly your back. Squeeze your abs and bends your thighs to bring them to the horizontal.
Return to the starting position and exhale at the end of the movement.
To prevent the barbell from slipping forward, pull out your chest and raise your elbows as high as possible.
As the barbell placed anteriorly, your chest will not bend forward and your back will always be straight. You have the possibility to put a wedge under your heels to ease the movement of execution.
Front squat is an exercise to do with weights less heavy than the classic squat.
This exercise works the quadriceps, glutes, hamstrings, abs and erector spinae.
Front squat is an exercise used in weightlifting training because the movement corresponds perfectly to the work performed by thighs during snatch and clean and jerk.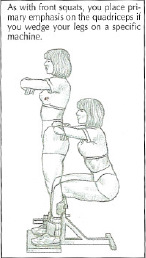 With a specific machine, you can do the same work on quadriceps as the front squat by wedging your legs and bending your thighs.
Share this article if you think it can help someone you know.Thank you.
-Steph