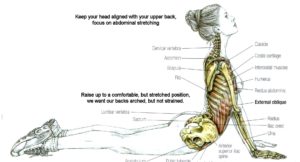 What's up ? This is THE stephane ANDRE ! I read a Frederic Delavier's book « Strength Training Anatomy » and I learned good stuff.
Lying on your stomach on your hands with your arms extended :
Straighten up your chest slowly by tilting your head back slightly

Maintain this position for few seconds while breathing slowly to feel the stretching of your abs.
Variant
It's possible to make this movement with your hands on a bench and your feet on the floor, or you're lying on your back on a big ball (Swissball).
Note
Stretching of abs can be an important element in some sports like throwing sports, especially the javelin. In this type of sports, it's essential to have good flexibility and a good abdominal amplitude to make the movement perfectly.
Attention
Abs stretching are to be avoided in case of lumbar pathology.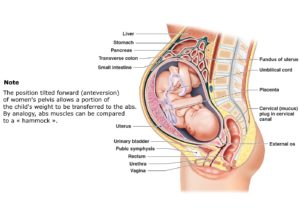 Note
The position tilted forward (anteversion) of women's pelvis allows a portion of the child's weight to be transferred to the abs. By analogy, abs muscles can be compared to a « hammock ».
Subscribe to my newsletter and share this article if you think it can help someone you know. Thank you.
-Steph