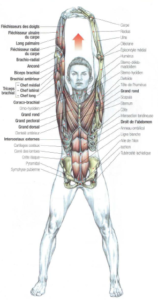 What's up ? This is THE stephane ANDRE ! I read a Frederic Delavier's book « Strength Training Anatomy » and I learned good stuff.
Stand with your feet a little wider than your pelvis width and you back is straight :
Hold your ams vertically with your hands clasped and your fingers crossed. Your palms directed upwards :

Inhale to inflate your lungs to the maximum and stretch your intercostal muscles. Push your palms up keeping your back and head upright.

Exhale slowly by relaxing and starts again.
This stretching exercise stretches intercostal, rectus abdominis, latissimus dorsi, teres major, triceps. When you incline your torso laterally, you stretch more your external oblique and internal oblique, quadratus lumborum and the internal and medium part of your erectors spinae.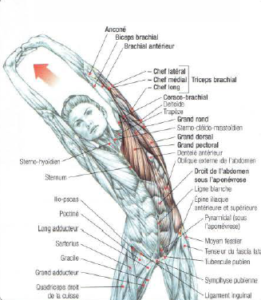 Note
This stretch is great for relaxing the body after a training with heavyweights like leg press, squat, deadlift because the ribcage and spine have been compressed.
This movement may occasionally replace or supplement the stretching at the bar to rebalance the pressure and tensions of the intervertebral joints.
Share this article if you think it can help someone you know. Thank you.
-Steph