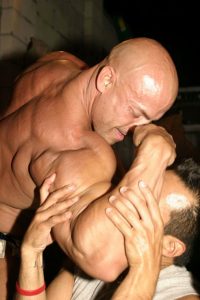 Yesterday, I watched a YouTube video about differents sources of income from bodybuilding athletes. Here is the list: Porn, YouTube, Sponsor, Be an ambassador of a brand, website, Personal trainer, Merchandise (clothing, shaker, eBook, etc).
The word porno stayed in my head and I looked a little. I found a hidden thing in the fitness world. By dint of seeing all bodybuilding's celebrities, we think they earn a lot of money. In fact this isn't true, it's like music artists, the majority lie.
A Pro IFBB athlete spends thousands of dollars per month for anabolic steroids, growth hormones, food, gym, coach, travel and everything about sport. You saw, I didn't mention rent, car, gasoline and insurance, it's a lot to pay.
With competitions, you earn a very little money because when you count all the money you used to prepared the competition, you see you have lost money. If you come from a rich family or you have a business that works well or that you really have a good salary, it helps a lot, otherwise you have to look for money elsewhere.
Gay prostitution. Yes there are several types of services. The most common is that the athlete gets naked in front of his web-cam and do a dance in private chat. Customers pay mainly to see naked and masturbating. Matt Ogus became known for it on YouTube.
There are also supplements companies working with athletes who arrange private parties with rich gay. Yes, there are company that encourages you to take steroids and prostitution, yes, yes. You should know that a lot of rich gay investing in supplement company or in competitions and in exchange they want to have sex with athletes regularly. Everyone at a price.
I imagine in all these athletes, there are heterosexual and who become gay prostitutes, it's not nice to hear but it's the reality. Now I know it better, I think that for women it must be in a higher level.
Everyone makes choices but we must take care because if I could see these images, it means I'm not alone and at one point, they will have to explain it all. Ah, we have to assume our crimes.
My friend, do what you must do to have the best lifestyle you can. I don't like this kind of story and often it ends in suicide. I advise you to be away from this situation, it attracts problems. Continue to strengthen your body and your mindset to create the healthiest environment possible, it isn't easy but it is doable. You're warned my friend !!
Share this article if you think it can help someone you know. Thank you.
-Steph