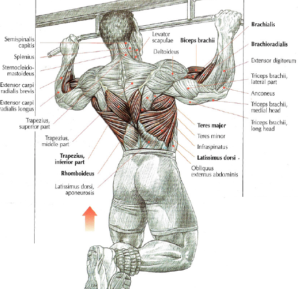 I read a Frederic Delavier's book « Strength Training Anatomy » and I learned good stuff.
In suspension at the fixed bar with your hands apart with a pronated grip:
Inhale and pulls to bring your chest almost to the level of the bar

Exhale at the end of the movement

Return to the starting position by controlling the movement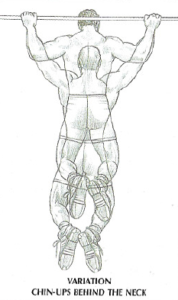 This exercise works latissimus dorsi, teres major and when approaching the shoulder blades at the end of the movement, it's the rhomboids and trapezius (middle and inferior part). This exercise works a little bit biceps brachii, brachialis, brachioradialis.
This exercise works the back in thickness.
Variants
By pulling out your chest, you can pull to the chin.
If lifting your bodyweight is too easy, you can attach weights to a belt.
From a biomechanical point of view, do this exercise with your elbows along your body work the outer fibers of the latissimus dorsi and develop your back in width.
By pulling out your chest with your elbows back to pull to your chin, work the upper and middle fibers of the latissimus dorsi and those of the teres major.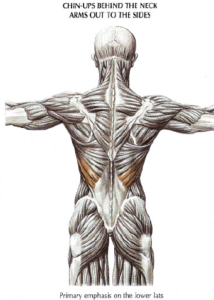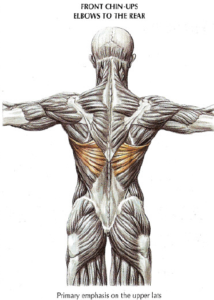 Note
Pectoralis major works a little bit to be in synergy with the latissimus dorsi and teres major to close the angle between your arm and your core.
Evolution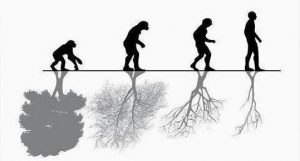 Latissimus dorsi and teres major have an important role in the four-legged movement of our distant ancestors. They have the function of pushing the front legs backward.
During arboreal life, these muscles were transformed into muscles specialized in vertical displacement.
During life on the ground, our ancestors bought the biped but retained the possibility of climbing.
That's why we have powerful back's muscles to tow our bodies and climb trees.
Note
The difference that human beings have with our close relatives, the monkeys, is the development of lower limbs specializing in bipedalism. Our torso and upper limbs have the same structure and proportions. The truth is that monkeys don't have long arms, it's us who have long legs.
Subscribe to my newsletter and share this article you think it can help someone you know. Thank you.
-Steph
P.S. If you're in Miami and you like Caribbean food, go to my cousin's bistro to eat Haitian food. Click here.