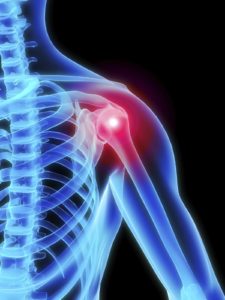 What's up ? This is THE stephane ANDRE. I watched an Athlean-X's video and I learned some good stuff.
I have a little pain when I do dumbbell press or overhead shoulder press, maybe you have that pain too ? As I want to avoid having surgery like the majority of professional athletes, I tried to find out if I could find an alternative exercise to work the same muscles without pain.
This shoulder pain during this exercise is a real problem, because it's a movement that is so advised to do to develop shoulders that the majority of people continue to do despite the pain. The longer a person continues to do this exercise with the pain and the more the person, several years later, will need to do a surgery to the damaged shoulder. It's sad because people keep doing this exercise because they don't know (like me at the beginning) that there are alternative exercises.
Pain
For me, I felt the pain at the starting position, it means with a dumbbell in each hand, dumbbells at the level of my ears or a little above my shoulders and my elbow at the outside. It was impossible for me to keep this position for more than 5 seconds and after a few reps, I felt less pain. A few months later, I changed the starting position. I started with my arms outstretched but the pain was still there. The feeling of pain is really bizarre because sometimes, I felt that my shoulders could be dislocated with heavyweight.
Solution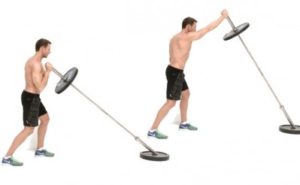 The idea is to do this exercise with the elbows forward because the pain is due to instability of the rotator cuff. In fact, this pain appears on the weakest shoulder.
This exercise has no official name and has a lot of variation but the best known name is barbell corner press. You need to use a barbell and put it in a corner of the gym. If you do this at home, I advise you to put a blanket in the corner of the wall to not damage the wall. Put a plate of 10kg (22lbs) or 20kg (45lbs) on the opposite side :
Lift the barbell with your 2 hands with a squat position to protect your back. Stand up with your torso leaning forward, your back straight, one leg forward and your hands almost on your torso with your elbows forward.
Press straight up overhead and exhale
Back to the start position and inhale
You can also do this exercise with one hand. Barbell corner press is an alternative exercise to dumbbell press or overhead shoulder press to continue developing your shoulders without pain and without sacrificing your shoulders.
Subscribe to my newsletter and share this article if you think it can help someone you know. Thank you.
-Steph