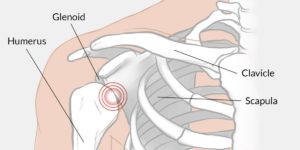 What's up ? This is THE stephane ANDRE. With my training, I'm interested in biomechanics to avoid injuries. I read « Sport Medicine Media Guide » and I learned some good stuff.
Shoulder is the most mobile joint of the body. This allows you to lift your arm, rotate your arm and lift your arm over your head. It's possible to have a greater range of motion with less stability.
How
Shoulder instability
This happens when the humerus head (the upper arm bone) is forced out of the shoulder's cavity. Usually this happens as a result of a sudden traumatic injury.
Once the shoulder is dislocated, the shoulder is vulnerable to repeat. When the shoulder is loose and slips several times, it's called a chronic shoulder instability.
The shoulder is made of 3 bones : humerus (upper arm bone), scapula (shoulder blade) and clavicle (collarbone).
Dislocation shoulder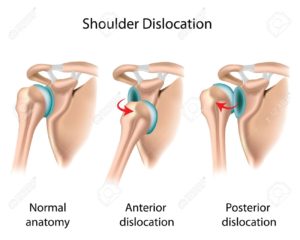 This may be partial, which means that the arm's ball partially comes out from the cavity. This is called a subluxation. This can be complete which means that the arm's ball comes out completely from the cavity.
Symptoms
Symptoms of chronic shoulder instability are :
Pain caused by the shoulder injury
Repeated shoulder's dislocation
Repeated instance of the shoulder giving out
A persistent sensation of the shoulder that is loose, slipping out of the joint or hanging.
Diagnosis
Specific tests help assess shoulder instability (including general relaxation of ligaments). A doctor may prescribe imaging tests such as X-rays, CT Scan or MRI to confirm the diagnosis and identify other problems.
Treatment
First, chronic shoulder instability treated with nonsurgical options. If these options don't relieve pain and instability, surgery may be needed.
Nonsurgical treatment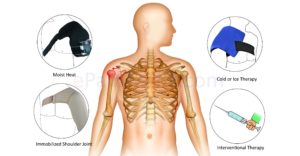 Generally, it often takes several months of nonsurgical treatment before success can be assessed. Nonsurgical treatments includes :
Non-steroidal anti-inflammatory medication
Surgical treatment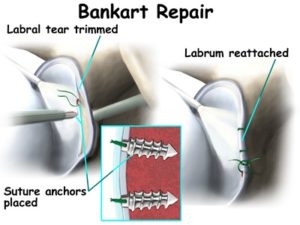 Often, surgery is often required to repair torn or stretched ligaments so that they can maintain the shoulder joint in place.
Bankart lesions (tearing of the front labrum from the cavity) can be repaired surgically using suture anchors to reattach the ligaments to the bone.
Arthroscopy => Soft tissues of the shoulder can be repaired using tiny instruments and small incisions. It's a procedure that is done the same day or outpatient. Arthroscopy is a minimally invasive surgery. The surgeon examines the inside of the shoulder with a small camera and performs the operation with special instruments.
Open surgery => These are patients who require open surgical intervention. This involves making a wider incision on the shoulder and performing the repair under direct visualization.
Rehabilitation
After surgery, the shoulder can be temporarily immobilized with a sling. When the sling is removed, it's essential to do ligament rehabilitation exercises. These exercises improve the range of motion of the shoulder and avoid scarring during ligament healing. Thereafter, exercises for strengthening the shoulder will be added in the rehabilitation program.
Subscribe to my newsletter and share this article if you think it can help someone you know. Thank you.
-Steph
P.S. If you're in Miami and you like Caribbean food, go to my cousin's bistro to eat Haitian food, click here .