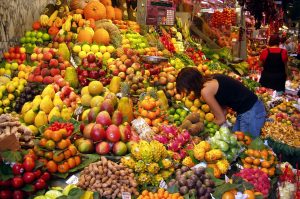 I read a Nerd Fitness article  and there is good stuff.
Most of fruits comes from trees, it's for this reason they're healthy foods. But they're also composed of sugar and sugar is a bad new for our body. Let's see.
Healthy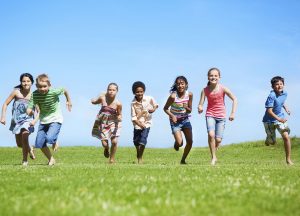 Fruits and vegetables are planet's plants that are full of vitamins, minerals, antioxidant and even more.
Fruits are also composed of sugar that is why we'll enter in the sugar's science.
A fruit can have a combination of different sugar's type :e sucre :
Fructose

Glucose

Sucrose (a combination of fructose and glucose)
This combination of sugar that grow with the fruit have a different effect in our body than processed sugar and high-fructose corn syrup.
The difference is fruit's sugar has fibers and these fibers help our body to slow absorption of sugar in our blood system .
Fruits have a lot of things good for our body and eat them for snack or before a training is excellent.
Fruits can also be part of our healthy meals each day.
Caution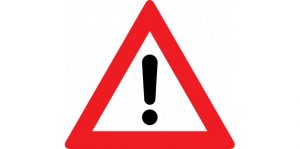 When a person changes diet, an old unhealthy diet with a lot of calories and sugar for a new healthy diet with a lot of proteins and plants, this person may feel lost. Since our bodies have been sugar-dependent easily because of food industry, we must be careful.
When we want sugar, we should think to a fruit rather than a candy. By this way, we give a signal to our brain « Yeah sugar ».
On the other hand to not slow down your weight loss process, don't eat more than 1000 calories of fruits per day. Burn more calories than you consume is the most important part to lose weight.
Since than food industry put a ton of sugar in fruits, we must be careful to not become sugar addicts. Eat fruits in moderation.
Fruit juice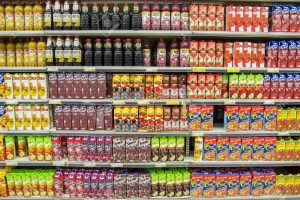 I show you the scam ! It's sugar water (apple juice, orange juice, grape juice, etc.). When fruits are squeezed in factories, there is all sugars but not fibers. And they add preservatives, another type of sugar for flavor and a lot of others ingredients. The scam is that food industry try to make us believe that is healthy fruit juices.
Here, 4 fruit juices, the most popular with the typical amount of sugar inside :
Orange juice – 21g of sugar

Apple juice – 28g of sugar

Cranberry juice – 37g of sugar

Grap juice – 38g of sugar
Make a comparison, a 33cl (12oz) of Coke contains 49g of sugar. These numbers are interesting, right ? Do you see the scam ?
Dried fruits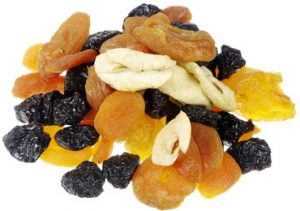 Dried fruits keep healthy vitamins and healthy minerals from fresh fruits and it's very convenient to carry. It's convenient for snacks but you have to eat if really with moderation.
We can eat a huge amount of dried fruits because they're dehydrated then they take less space in the stomac than fresh fruits. The results is than we can have an overconsumption of sugar and calories very quickly.
A tiny handful (a small quarter of cup) of dried grape = 130 calories and 30g of sugar.
Tips
Eat dried fruits to a limited amount and avoid fruit juice unless you squeeze it yourself.
If you're healthy, continue to eat fruits like you do if it works.
If it's hard to lose weight and you eat a lot of fruits in your diet, increase your consumption of healthy lipid, protein, vegetable and decrease your consumption of fruits.
If you want to lose weight, eat real fruits in moderation and rarely dried fruits and canned fruits.
I know you're smart then appreciate fruits and be aware of what you eat.
What is your favorite fruit and what is the fruit you eat in large quantities easily ?
-Steph
P.S. Do you want a free training program ? Click here 
Smartphone apps :
To track my calories, I use MyFitnessPal 
To track my training program, I use Jefit