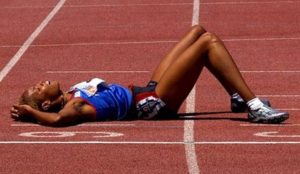 What's up ? This is THE stephane ANDRE. With my training, I'm interested in biomechanics to avoid injuries. I read « Sport Medicine Media Guide » and I learned some good stuff.
Every summer, hundreds of people experience sun-related illnesses and heat. Being prepared and hydrated avoids theses situations.
Why
When an athlete exercises, his/her body temperature increase and the body sweats to cool the body. During this process, body fluids and electrolytes are lost. If the boy is not recharged with fluids and electrolytes, it's dehydration and it increase the risk of heat illness as a heat stroke.
Symptoms
Symptoms are :
Chills

Dark colored urine

Dry mouth

Headaches

Thirst

Weakness
If the heat illness progress, there are more serious symptoms like :
Difficulty breathing

Body temperature increasing to dangerous levels

Muscle cramps

Nausea

Tingling of the limbs

Death
How to prevent
The most effective treatments for heat illness are :
Proper training for the heat

Fluid replacement before, during, and after exertion

Appropriate clothing (light colored, loose fitting and limited to one layer)

Early recognition via direct monitoring of athlete by other players, coaches and medical staff

Monitoring the intensity of physical activity appropriate for fitness and how an athlete has acclimated to conditions.

If possible, having an athletic trainer on site during events and practices to properly prevent and treat heat illnesses.
In situations where the training program is intense or during a trip in a hot climate, an athlete should limit the intensity and duration of the training session. Thereafter, the athlete will increase the training's intensity for a period of 7-14 days to allow to the body, the time to adjust to the climate and environmental conditions. For athletes with respiratory, gastrointestinal or other diseases, they should especially evaluate these new conditions.
When an athlete should hydrate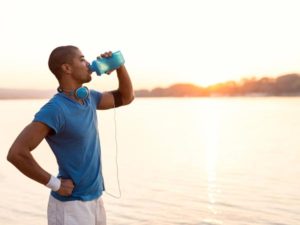 It's necessary to hydrate before, during and after a training session. Drinking 47cl (16 ounces) of water is recommended 1 hour before exercises. Hydration should continue with 11-23cl (4-8 ounces) of water every 15-20 minutes throughout the effort
There is a trick to track the hydration's level is to weigh before and after a physical activity. If the athlete is lighter after a physical activity, this means that there a deficit of fluids (indicated by weight loss) and it's necessary to recharge them. For the next physical activity, it will be essential to drink more to evaluate the losses (perspiration). An athlete who loses more than 2-3% of his/her bodyweight during exercise may decrease the performance and the body's physiological function.
If the athlete is heavier after a physical activity, it means that there is a surplus of fluids (indicated by gain weight). For the next physical activity, it will be essential to drink less to evaluate the surplus.
How to treat it
When you see signs of heat illness or heat stroke, it may be an imminent danger of death. It's necessary that a person immediately call for medical assistance while you're cooling the person at risk.
Treatment included :
Getting the athlete to a shaded area

If it heat stroke, cool the athlete rapidly using cold water immersion. If immersion is not available you may use spray from a hose, cold water sponging, or placing cold towels over the entire body

Monitoring body temperature

Providing cool beverage if possible (i.e., if the athlete doesn't have altered consciousness).

Getting medical assistance as soon as possible.
Heat exhaustion is a type of heat illness that can happen after several days of exposure to high temperature and improper or unbalanced fluid recharging.
Statistics
Heat stroke is a type of serious illness related to heat. It can cause death to athletes and this is probably the leading cause of athlete death during the months of July and August.

The body produces 1.8 liters (a half of gallon) of perspiration to cool the body every hour. If there are not enough fluids or the heat is overwhelming the body, the person may develop heat-related illness.
Subscribe to my newsletter and share this article if you think it can help someone you know. Thank you.
-Steph
P.S. If you're in Miami and you like Caribbean food, go to my cousin's bistro to eat Haitian food, click here.