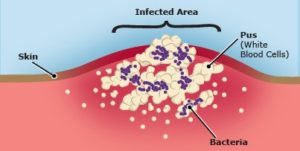 What's up ? This is THE stephane ANDRE. With my training, I'm interested in biomechanics to avoid injuries. I read « Sport Medicine Media Guide » and I learned some good stuff.
Methicillin-Resistant Staphylococcus aureus (S. Aureaus), or MRSA, is a bacterium that creates skin infections and other types of infections. The first time that MRSA was seen in US hospitals during the 1970s. Recently, there is a new strain of MRSA know as Community Acquired Methicillin-Resistant Staphylococcus aureus, or CA-MRSA, has left hospitals and began to spread in the community.
This is the strain that is prevalent among athletes. The difference between CA-MRSA and Healthcare-Associated MRSA (HA-MRSA) is in their effects. CA-MRSA usually creates skin infections while HA-MRSA causes bloodstream, urinary tract and surgical site infections. This make CA-MRSA less dangerous than HA-MRSA. Another difference is that CA-MRSA is more vulnerable to antimicrobial.
Symptoms
Signs of infections are :
Redness

Warmth, Swelling

Pus

Pain at sites where there are skin wounds

Abrasions or cuts
MRSA has the ability to spread to other organs in the body and when that happens, symptoms are more severe.
At this stage, symptoms are :
Fever

Chills

Low blood pressure

Joint pain

Severe headaches

Shortness of breath

An extensive rash over the body
These more advanced systemic symptoms require immediate medical attention.
Treatment
The 1st choice for treating MRSA skin infection is to use an antibiotic that has been created to kill bacteria with mild side effects. Most early infections with no widespread symptoms can be treated with oral antibiotics. Because of the nature of this decease and antibiotic options, many patients think they're « cured » after only a few doses and decide by themselves to stop taking the prescribed drugs. However, MRSA is able to re-infect the patient and become resistant to antibiotics used previously.
For moderate to severe infections, treatment may be with intravenous antibiotics.
These infections associated with deep abscesses or boils require open surgical drainage in addition to antibiotic therapy. Most infections resolve in 7-10 days with an adequate treatment despite the fact that a deep abscess can take up to 4 weeks to eradicate the infection by resolving the abscess cavity.
Early identification and treatment of MRSA infections decrease the amount of playing time lost and decrease the chance that the infection will become severe. Skin may be protected by protective clothing or gear designed to prevent skin abrasions or cuts.
Prevention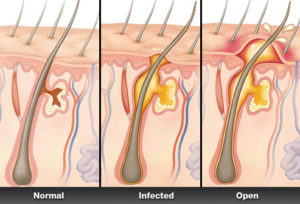 It's necessary that athletes have good personal hygiene but it must be added that athletes and visitors to athletes facilities must also keep their hands clean by washing them often with soap and water or using an alcohol-based hand rub. The minimum is to have clean hands before and after sports and activities. For example when we use weight training equipment that is shared by all gym members, it's important to have clean hands after using toilette or when someone is injured taking care the wounds (including changing bandage).
Ordinary and antimicrobial soaps are effective for washing hands. It's noted that liquid soap is a better option because it's not possible to share this type of soap compared to bar soap. Alcohol-based hand sanitizer that contain at least 60% alcohol are the perfect choice.
Athletes should shower immediately after exercise and shouldn't share soap and towels. Washing all uniforms and clothes after each use is important. Athlete should avoid sharing items that are in contact with the skin and avoid sharing personal items as they contact the skin. Fortunately, most surfaces don't provoke a risk of spreading staph and MRSA.
Athletes who have had MRSA
Several high school, college and professional athletes have contracted MRSA infections. There have already been epidemics among athletes on the same team. A study published in « The New England Journal of Medicine » shows an infection MRSA among St. Louis Rams professional football franchise (USA) athletes. During a single season, MRSA infections were found among 5 of 58 Rams athletes (9 percents) that was tested. All infections developed on areas of the body that are common places for turf injury.
Stats
Today, MRSA accounts for about 50-70% of the S. Aureus infections that are present in healthcare facilities across the world.

Statistics fro the Kaiser foundation in 2007 indicated that approximately 1.2 million hospitalized patients contract MRSA infections.

Serious MRSA infection is still predominantly related to exposure in the healthcare setting, where approximately 85 percent of all serious MRSA infections occur.

Fortunately, in children under 18 years old, mortality rates are much lower (1%), even though the number of hospitalized children with MRSA has almost tripled since 2002.
Subscribe to my newsletter and share this article if you think it can help someone you know. Thank you.
-Steph
P.S. If you're in Miami and you like Caribbean food, go to my cousin's bistro to eat Haitian food, click here .