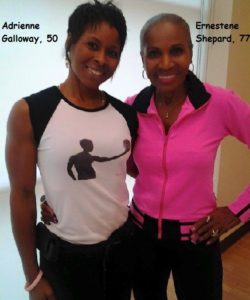 What's up ? This is THE stephane ANDRE. With my training, I'm interested in biomechanics to avoid injuries. I read « Sport Medicine Media Guide » and I learned some good stuff.
Physical exercises are for everyone, including the mature population. Exercises allow older people to keep a healthy body and maintain their independence. The main health problems of the mature population are arthritis, high blood pressure, heart disease, lung disease, depression and hearing and sight loss. With the exception of hearing and sight loss, all these health problems can be serious decrease with an adequate workout program.
All mature athletes should have a complete medical and musculoskeletal assessment before starting any workout program. Having a complete medical examination, medical advice and a workout program helps to avoid serious injuries and health accidents. These 3 things should meet the needs of a mature athlete to avoid disease, increase endurance, strength, body image and competitiveness.
Exercises are beneficial
It's important that a qualified personal trainer create a specific workout program to improve strength, endurance, balance and flexibility. If the workout program includes sports such as golf or tennis, the technical knowledge of the golf/tennis instructors is helpful to avoid injury and improve performance. For results, workout programs must be consistent for at least 30-45 minutes, 3-4 days a week.
If physical conditions require correction, a cardiac or pulmonary rehabilitation program or physical therapy may be helpful before starting a workout program. These rehab programs should be taught to mature athletes at a fitness level where they could continue with their own workout program.
Exercise type for the workout program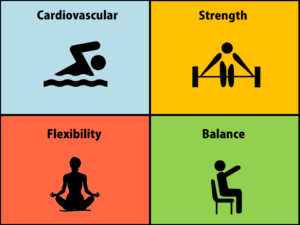 An athlete should use types of exercises based on his/her desire, pre-existing conditions and his/her ability to exercise without pain. For an athlete with lower extremity joint problems such as arthritis or instability, it's recommended to avoid exercises with repetitive impacts like running. For athletes with an unstable shoulder, it's recommended to avoid overhead exercises such as military press and pull-ups.
Using several types of exercise to improve strength, can allow better recovery of muscle and tendon tissue. If a mature athlete wants to make a sport that can aggravate a pre-existing problem on a muscle, tendon or bone, that athlete should be in a good condition before doing this sport. It's recommended to decrease this sport's frequency to reduce the painful symptoms.
What equipment to use
Having shoes that fit with the exercise and/or the sport is beneficial. If the person has a foot with significant deformity such as flat feet (fallen arches), using orthopedic shoes helps to reduce stress on the entire lower extremity. The symptoms of arthritis in the knee may be decrease by the use of specialized braces.
Prevent injury or discomfort during exercise
If there is discomfort during or after physical exercise, this should be analyzed to prevent it from starting again or getting worse. Over-the-counter painkillers and anti-inflammatory can be used in the short term if there is no interference with other medical conditions. It's important to know that the use of ice, heat, massage and flexibility programs can decrease several symptoms caused by exercise.
There is more aggressive treatment with narcotic analgesic and/or cortisone injections but this should only be used to treat a specific lesion. This shouldn't be used to allow an athlete to complete in the short term.
Summary
Creating a customized workout program with a medical professional and/or a qualified personal trainer helps a mature athlete to :
Keep independence

Increase physical abilities

Prevent injuries

Improve the quality of life
Subscribe to my newsletter and share this article if you think it can help someone you know.. Thank you.
-Steph
P.S. If you're in Miami and you like Caribbean food, go to my cousin's bistro to eat Haitian food. Click here.