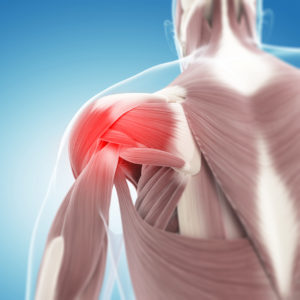 What's up ? This is THE stephane ANDRE. With my training, I'm interested in biomechanics to avoid injuries. I read « Sport Medicine Media Guide » and I learned some good stuff.
Rotator cuff is a group of 4 muscles and their tendons that together form a « cuff » around the head of the humerus (upper end of the arm). The 4 muscle, originate from the scapula (shoulder blade), are upraspinatus, infraspinatus, subscapularis and teres minor. Tendons of each muscle fit on the humerus tuberosity.
Rotator cuff's functions :
Lift the arm

Turn the arm

Stabilize the humerus in the joint
Causes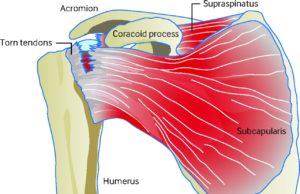 The causes of a rotator cuff tear can be an acute injury such as a fall or because of chronic wear with tendon degeneration. For people over 40 years old, the pinching of the tendon on the underside of the scapula may participate in tearing.
Diagnosis
Diagnosis of rotator cuff tears is based on an examination and/or diagnosis study such as a MRI (magnetic resonance imaging) to confirm the diagnosis. Diagnosis early on in the first symptoms and rotator cuff's treatment can help to boost the treatment's results.
Treatment
Goals treatment are to relieve pain and restore strength to the injured shoulder. Several tears in rotator cuff can be treated without surgery. Anti-inflammatory drugs, steroid injections and physical therapy can all be beneficial in treating the symptoms of a tear in the cuff.
Even though a full-thickness tear needs to be cured with surgery, it's possible to use non-surgical treatments to have a satisfactory function in some cases.
Surgery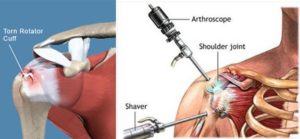 Surgery is recommended if there is persistent pain or shoulder weakness that doesn't improve with non-surgical treatment. Often patients who have surgery indicate nocturnal pain and difficulty using the arm for lifting and reaching. Many will indicate persistent symptoms despite several months of treatment and limited use of the arm.
Surgery is also recommended for active people who use the arm for overhead work or sports.
Surgical options
The type of repair performed is based on the findings at surgery. A partial tear my necessarily only a trimming or smoothing procedure called a debridment. A full-thickness tear with the tendon torn from its insertion on the humerus is repaired directly on the bone.
3 techniques are used for rotator cuff repair :
Open repair (through a traditional incision)

Mini-open repair (partially assisted by a camera view, with a smaller incision)

Arthroscopic (performed with only a small camera inserted through multiple small puncture wounds)
Recovery and rehabilitation process
Whether for the treatment of non-surgical and surgical rotator cuff tear, rehabilitation has a very important role. Usually recovery is at least 6 months or more depending on the extent of the tear.
When there is a tear, there is frequently a loss of shoulder movement. An exercise or physical therapy program is needed to restore strength and improve shoulder function.
Although surgery repairs the defect of the tendon, the muscles around the arm remain weak and an important effort is necessary in the rehabilitation so that the procedure is a success. After surgery, a complete re-education can last several months.
Subscribe to my newsletter and share this article if you think it can help someone you know. Thank you.
-Steph
P.S. If you're in Miami and you like Caribbean food, go to my cousin's bistro to eat Haitian food, click here .