Pour changer du cardio sur le tapis, voici comment exploser votre graisse et transformé votre physique.

Vous n'avez pas besoin seulement de courir sur le tapis pour brûler des calories. En fait si votre but est de brûler les graisses, varier. Faire des intervalles de type de programme est essentiel. Cela va surprendre votre corps de faire des période de travail intense avec des moments de récupération courtes. Cela permet de maintenir une session de haut intensité, ce qui est extrêmement efficace pour changer votre corps. Des circuits intense stimule les hormones qui construisent les muscle.
La clé c'est d'inclure des mouvements qui challenge votre corps tout entier dans une seule session. Reprenez votre souffle mais ne soyez pas complètement rétabli avant d'attaquer la prochaine série. Inclure au moins un jour de repos entre les entraînement et vous verrez des résultats qu'un tapis de course ne pourra jamais expliquer. Pour vous aider à démarrer essayez ces 3 alternatives au cardio traditionnels.
Legs Blaster
Comment le faire : Faites les exercices par type de lettre (marquée « a » et « b ») en alternances, de sorte que quand vous aurez compléter une série de « a », faites l'ensemble de « b » et répéter jusqu'à ce que les jeux de lettres soient terminés.
Astuce : Si une medecine ball n'est pas disponible, vous pouvez faire les exercices avec des haltère ou le câble.
1a. Squat Bulgar : 3 sets, 10 reps (chaque jambes), Repos : 60 sec.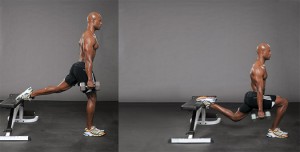 Mettez vous en position de fente avec une haltère dans chaque main. Posez une pied sur le banc derrière vous. Baisser vous jusqu'à ce que votre genou arrière touche presque le sol,puis remonter. Faites-les 10 reps et changer de jambes.
2a. Leg Curl avec la medecine ball : 3 sets, reps jusqu'à l'échec, pas de repos.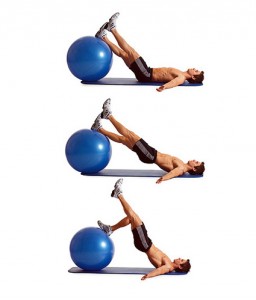 Allongez-vous sur le dos et mettez vos talons sur le medecine ball. Levez vos fesse et levez une jambes. Maintenant vous avez seulement une jambe sur la medecine ball. Garder vos hanche surélever puis plier la jambes pour ramener la balle vers vous et déplier. Faites-en jusqu'à l'échec et une fois terminer, changer de jambes.
2a. La Planche : 3 sets, maintenir le plus longtemps possible.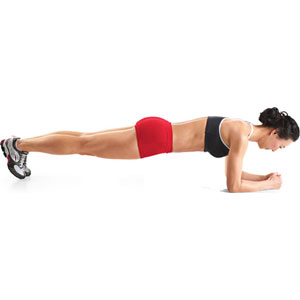 2b. Glute Bridge : 3 sets, reps jusqu'à l'échec(chaque jambes), Repos : 30 sec.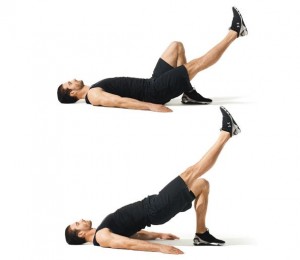 Allonger-vous sur votre dos et pliez le genou à 90° degrés. Une jambe bien au sol et l'autre levé. Pousser sur le pied pour lever vos hanches jusqu'à ce que votre corps fasse une ligne droite et revenez à la position de départ. Répéter le mouvement jusqu'à l'échec puis changer de jambe.
Circuit en mode force
3 phase, Repos : 30 sec. entre chaque phase.
Dumbell swing : Prenez l'haltère de sorte que les extrémités des plaques soient perpendiculaires à votre corps. Penchez-vous en arrière avec les jambes fléchi comme si vous alliez faire un soulevé de terre. Balancer l'haltère entre vos jambes et pousser sur vos talons pour que l'haltère se retrouve au dessus de votre tête. Contrôler le mouvement de retour pour l'haltère revienne à la position initial. Voilà une reps qui a durée 30 secs.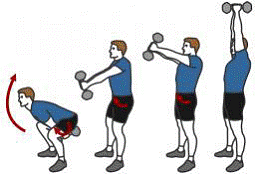 Inverted Row avec chaises :Asseyez-vous sur le sol entre 2 chaises dont les siège font face à face et un manche à balai ou une barre dessus. Tenez bien la barre et faite en sorte que votre corps fasse une ligne droite. La seul chose qui touche le sol devrait être vos talons. Garder vos abdos et vos fesses serré et tirer jusqu'à ce que la barre touche votre poitrine.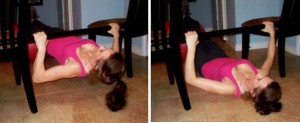 Squat jumps : Tenez vous debout avec les pieds à la largeur des épaules. Commencer par faire un squat normal et quand vous remonter faites un saut explovif. Lorsque vous atterrissez, baisser votre corps pour que vous soyez en position accroupie pour terminer une répétition. L' attérisage de se faire de la façon la plus douce possible.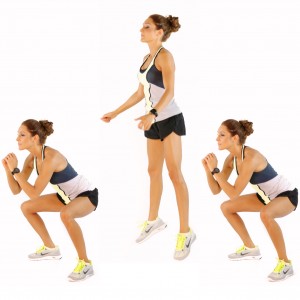 La Planche : 30 secs.
Courrir avec les genoux haut : 30 seconds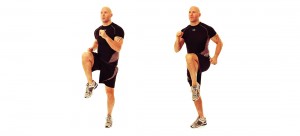 Voilà, une phare est terminé, recommencé.
Une circuit pas Traditionel
Le circuit composé de :
10 Burpees Sets: 3, 1 min. de récup.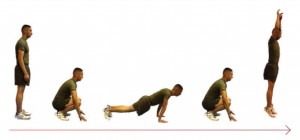 20 Hopping Lunges Sets: 3, 1 min. de récup.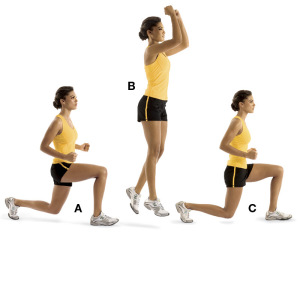 3 minutes de Planche 1 min. de récup
2 minutes de Planche 1 min. de récup
1 minute de Planche 1 min. de récup
Lateral Skater Hop: Sets : 3, 20 reps (de chaque côté), 1 min de récup.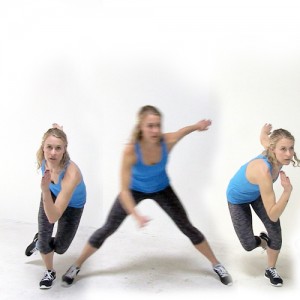 Squat to Press with Dumbbells 10kg (20 lb): Sets : 3, 25 reps, 1 min de récup.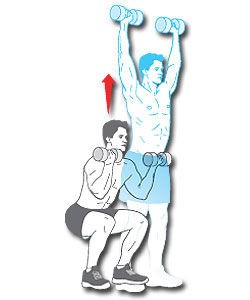 -Steph