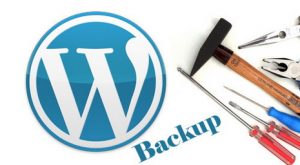 With my computer, I used to have several places for my backups. external hard drives, servers, cloud. If there is fire in a place, I have several copies of my backups in different locations.
In my blog, I use UpdraftPlus . It'is convenient because you can save files from your site manually or set the time for the backup creation on Dropbox, Google Drive, FTP, email and other places.
Everydays I make a backup at a specific time and it's 5 files :
[Filename] -db.gz

[Filename] -other.zip

[Filename] -plugins.zip

[Filename] -themes.zip

[Filename] -uploads.zip
In case of problems, you can use these files to restore your blog with UpdraftPlus.
Once you have installed UpdraftPlus plugin in WordPress click on « Settings » => « Updrafts Backups ». Click on « Settings » tab :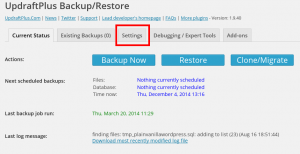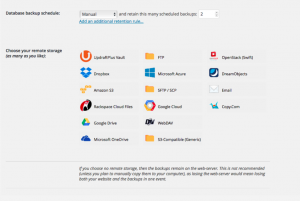 You chose what place you're going to store your backup files, then you fill your confidential data and your select backup's content. Once this is complete, you click on « Save Changes » button :

Click on the tab « Current Status » and then click on the « Backup Now » button to make a test: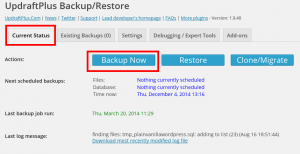 Checks if the backup works. Then you can click on « Existing Backup » tab to restore your blog :

This plugin is super convenient, it's cool.
Are you using another plugin for your backups ?
-Steph