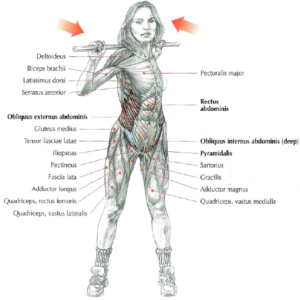 What's up ? This is THE stephane ANDRE ! I read a Frederic Delavier's book « Strength Training Anatomy » and I learned good stuff.
Standing with your legs apart and the stick placed on your trapezius above your posterior deltoids. Your hands are on the stick but don't press on it :
Make a torso rotation on one side then the other, keeping your pelvis motionless with an isometric contraction of your glutes.
This exercise works when your right shoulder is forward : the right external oblique, left internal oblique and a little bit rectus abdominis, quadratus lumborum and extensor spinae on the left side.
For more intensity, it's possible to slightly round your back. A variant is to do this movement sitting on a bench, which will block your pelvis and focus the effort on your abs.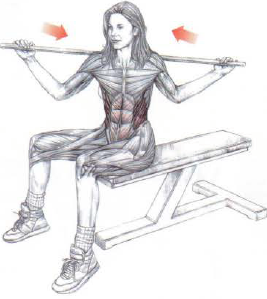 It's with sets of several minutes that you get the best results.
Attention
Torso rotations are prohibited for people suffering from low back or having had a herniated disc as this may aggravate or resurgence of this lumbar pathology.
Share this article if you think it can help someone you know. Thank you.
-Steph