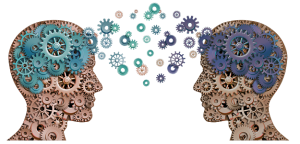 I watched an Olivier Roland's video  and there is good stuff.
Knowledge is the future of web entrepreneurship. Bill Gates published a text on 1st march 1996 « Content is king » . Read these sentences :
« Content is where I expect much of the real money will be made on the Internet, just as it was in broadcasting ».
Since 1996, we see that his prediction is confirmed.
Today with content, we can do more than most of companies did until now. Usually companies try to have loyal customers. With content we can create a truly tribe of fans. Seth Godin explains this in his book « Tribe » .
Seth Godin is a marketing's visionary of 21st century. He anticipated a lot of change with the irrution of new technologies. As the way how companies communicate with theirs prospects, customers and now theirs communities.
All companies should create content even bakers, shoemakers or plumbers. We know today, content allow you to create a tribe of fans to have a truly privileged relation with your community.
The future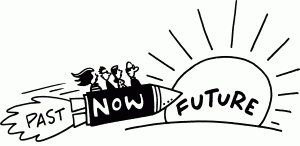 Content is the future because more and more functions in the job will be done by softwares, robots or outsourcing to low-cost countries. It's the last years we can see humans taxi drivers and truck drivers. Quickly automatic cars will come and they will disrupt the entire industry of taxi and truck. Uber made its first delivery with an automatic truck (https://www.wired.com/2016/10/ubers-self-driving-truck-makes-first-delivery-50000-beers/). Uber invest a lot in automatic truck technology.
A lot of jobs will be do by algorithms. A book talk about this « Homos Deus » . Even a job as doctor will be disrupt by new technologies. Within 20 years, we will have sensors in our body or in watches, jewels, smartphones. Theses sensors will measure a lot of parameters in our body, upload those data in the Cloud and we will have access to diagnostic softwares more efficient than doctors. It already exist, IBM sell its Watson's system to hospitals to reduce the number of medical error .
The truth is we can't guarantee to anyone that his/her job will still exist in 20 years. And if you job still exist in 20 years, it will be deeply disrupt by new technologies.
It's here knowledge's economy intervent. We had agricultural revolution then industrial revolution and now we're in information revolution. It means if you're in information industry in 2016, you will be placed among jobs which are going to be the most difficult to disrupt by softwares, robots and outsourcing in low-cost countries. I can't guarantee you that your job will still exist in 20 years but you will be well placed to accompany this wave of change. May be you can cause it a little bit on your scale.
The key to ressources and wealth in 21st century, it's how to circulate information and knowledge freely. Old companies try to stop this revolution, they try to stop companies like Uber, Airbnb, etc. but it's like beavers that make dams to stop a tsunami. We must embrace change, we must have a flexibility of mind and initiative that allow is to adapt to 21st century. If not all industries will be finished like music industry. Do you remember Napster  ?
Learn online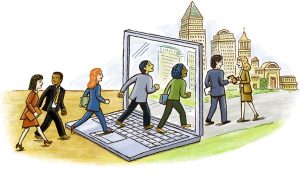 There will be more and more important place for people who teach this kind of state of mind because school don't do it. Beyond this state of mind, there will be an ongoing need for training on key competencies because the school has a too much great inertia. If you follow a computer course at the school, you can be sure that school is behind on what is happening now on the internet. It's cool to have the basics but it's better to have computer courses online with competent person.
There will be enormously weath that will be exchanged for richess of content,because this content is necessary to be able to adapt continuously to the change of 21st century.
If today, you want to be in the knowledge's economy like blogger, youtuber, eBook writer, etc. Don't hesitate, it's now to create your place and consolidate it to be among people well placed in 21st century to bring value to others and generate value (added value).
Each entrepreneur should check the value he/she brings to the world. Create a new Pepsi is good but like said Steve Jobs : « it's just sell water with sugar to people. It's not what will improve the world ».
-Steph