For several months, I use Instagram and Snapchat on my smartphone. It had been a week that I thought to put a link on my blog so you can see my photos on Instagram and Snapchat. Last weekend I was seeking an extension on WordPress and I discovered that I could show my photos from Instagram on my blog. So I tested an extension and I'm happy with the result. Here's what I learned.
There are many Instagram's extensions for WordPress and the one that gave me most want to test is WP Instagram Widget. With this extension, you can display your latest photos in your Sidebar Right.
After you install and enable the extension :

Click on the « Appearance » menu (in french « Apparence ») => « Widgets » to place the widget in the sidebar right by clicking and dragging :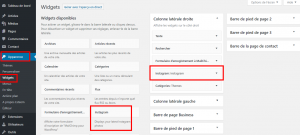 To configure, click on « Instagram » widget to open the window :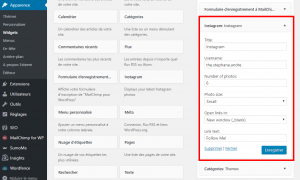 The options are :
Title : You selected your title

Username : You put the name of the Instagram's account

Number of photos : Number of photos you want to display on your blog

Photo size : There are 4 sizes (tumbnail, small, large, original)

Open link in: This is to select if you want to see the photo int the tab you use [Current windows (_self)] or in a new tab [Newj window (_blank)]

Link text: Clicking on this text, you get access to your Instagram's account
Once everything is configured, you click on the button « Save » (in french « Enregistrer ») and you check the results on your blog.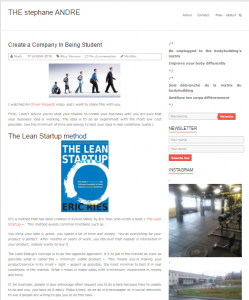 Now your blog is linked with your Instagram's account, all your photos will be displayed. This widget is simple and effective, it's cool.
Do you know another Instagram widget for WordPress ?
-Steph