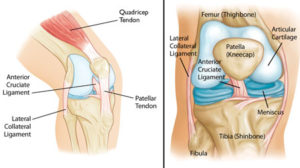 What's up ? This is THE stephane ANDRE. With my training, I'm interested in biomechanics to avoid injuries. I read « Sport Medicine Media Guide » and I learned some good stuff.
Meniscus tear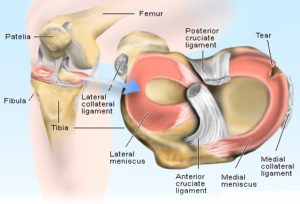 Meniscal tear is one of the most common knee injuries in athletes. This is caused after a contact injury or a traumatic twist. The meniscus is a wedge-shaped cartilage that provides a cushion in the medial and lateral portion of the knee joint and acts as a « shock absorber ». It's located in the area of joints contact to prevent the bones rub between them because of the bodyweight. It's hard and rubbery to help cushion the joints and keep the knees stable.
It's important to also know that the meniscus helps to nourish the knee by facilitating the diffusion of joint fluid. With this injury, athletes can experience acute pain with a swelling and often a catching or locking sensation.
Diagnose
A meniscus injury can be diagnosed on the basis of the story that the patient provides and a physical examination of the knee.
An orthopedic surgeon my also use other techniques to further diagnose such as magnetic resonance imaging (MRI), which gives a 3-dimensional image of the inside of the knee joint. In some cases, a surgeon can perform an arthroscopic inspection of the articulation, this is a minimally invasive surgical procedure.
Treatment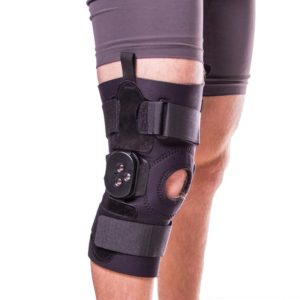 A small meniscus tear can be treated with rest, ice and anti-inflammatory medications. When a meniscus tear causes a significant loss of movement or catching, the appropriate treatment is often a surgical operation. Depending on the location and type of tear, the treatment may be a simple arthroscopy to remove the torn fragment. Depending on how quickly the inflammation disappears, athletes can return to a full activity after a week or months.
For athletes with a repairable tear, sutures are used to sew the meniscus. In this situation, the knee is braced for 6 weeks. These athletes take at least 3-6 months to back to their activities but maintain the full cushion in their knees.
Prevention
There is not really any way to prevent a meniscus tear apart from a conditioning program to try to prevent an acromioclavicular ligament (ACL) tear and knee instability.
Stats
Women have meniscus tears more often than men and at an earlier age. These tears are often associated with an acromioclavicular ligament injury (ACL)
There are some variables of meniscus tears can be repaired and despite repair, they aren't always heal. But arthritis can be avoided in the majority of cases when repair is successful. One study shows that 60% of patients who undergo meniscectomy (partial elimination) had some degree of progressive arthritis.
Subscribe to my newsletter and share this article if you think it can help someone you know. Thank you.
-Steph
P.S. If you're in Miami and you like Caribbean food, go to my cousin's bistro to eat Haitian food, click here .