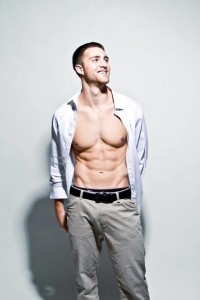 I just watched a Gary Vaynerchuk's video about fitness entrepreneur Fitness. If you don't know Gary, goes on his YouTube channel or types his name in Google and you'll quickly realize that he's one of the most influential guys in the field of startups.
Well now, I put the video like that you'll quickly understand :

And he's not wrong Gary. When I see the time and sacrifices I do to improve my body, I always wonder why guys who do competitions don't create big companies. With their experience on the field, they could have more customers. Usually they sell fitness programs, selling their own clothes brand and earn commissions on food supplements and unfortunately they spend a lot of time to show off on social networks rather grow their business.
Even you know, you see it on the internet. They participate in two exhibitions in the year to make a serious promo and a serious video to put on YouTube and the rest of the year, they clown and find customers one here and one there without strategy, by one. I know several personal trainer and it's hard for them, I advise them to be more present on Internet to access a larger number of people but attention, it will not happen in 3 months. The key is to create interesting content , blog/video, what you want. It's necessary that people can learn something from fitness's world. This can take 2-3 years before to have a big audience but it's like that for every business. Never give up.
I think to run his/her company, you must like competition as an athlete. Fitness's people isn't athlete ?!?. There is a person I like in Netherland, it's Tavi Castro, founder of BodyEngineering, owner of 4Invictus and distributor of ShredZ. Wait I'll put links: http://engineered-life.com/ ; http://4invictus.com/shop/ ;. This guy has 30 employees now, do you imagine ? Wait I'll put the video where he tells his story, wait, wait:

The fact than Gary Vaynerchuk make a video about fitness's world because he's a guy who is more in social media: he invests early in Twitter and Uber, Instagram for him will be the new Facebook and Snapchat is a killer. We don't even talk about Airbnb, numbers speak for him. I think that for this guy is interested in fitness's world, it's we can do something really ambition.
And you know, the food industry create more and more rotten foods and drugs are more and more dirty secondary effects, I think fitness will be always there.
-Steph
P.S. I had forgotten Christian Guzman in the same spirit that Tavi Castro
Who knows maybe soon there will be a Google fitness