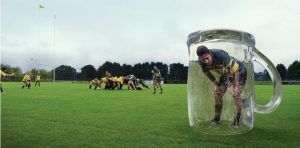 10 beers = 2 training days lost ! I discovered new information that I want to share with you because it's really important.
Alcohol and testosterone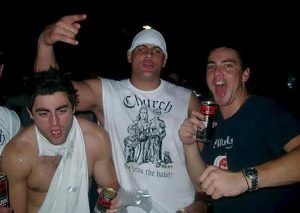 A study was done for 3 weeks with people who drank three beers a day. The result is that testosterone rate decline of 6.8 %. It's not extraordinary but drink 3 beers per day is an important dosage.
The conclusion is that drink a beer per day or 2-3 beers in the weekend has almost no effect on testosterone rate.
Another study was done on one day with people who drank 10 beers (the party). The result is that testosterone rate decrease of 23 % for 16 hours (it's long) ! This means that if you're going after a workout to party, your workout for the day is lost because you will not be recovered. Why ? Because you lack of a lot of testosterone and you have an increase of cortisol, which is a catabolic hormone. There is a problem !
The studies links :
Alcohol and progression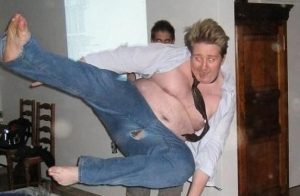 These 2 studies have shown us that drink a small amount / moderate, no worries and excessive, problem. But it's not just alcohol, it's everything that goes with it.
Usually you start drinking in the evening so you go to bed late. And when you drink alcohol, you eat badly, too fat, too sweet, pizza, cookies (junk food). In addition, often you mix alcohol with soft drinks (soda or fruit juice). Soft drinks brings a lot of calories with calories from alcohol. You know that 1 gram of alcohol is 7kcal ! That's more calories than carbohydrates, so it's been a lot of calories.
Besides some not strong alcohol such as red wine, alcohol is empty calories as white sugar ! it doesn't bring anything to the body and finally, it dehydrates. In summary, it causes increased fatigue, poor diet and dehydration, making poor recovery.
The training you did during the day is lost and you lose also the next day if you drank 10 beers, you had a bad meal, slept badly, poorly recovered and you're not in shape. In addition if you drink until 5-6 am and you traine early in the afternoon, there is a good chance you're still half drunk and you risk to do something wrong (poor concentration, poor technique, fatigue, dehydration), which increases the risk of injury.
1 night of excessive alcohol = 2 days of lost training
I saw this info 1 month ago and I can tell you that it made me think. All times I've been drinking rum (sometimes I vomit) and I went to train in half drunk thinking that it will make me clean faster (when I could because sometime , hahahhha). This is serious, to do simpler when I know it's a crazy party, I don't train for two days (saturday-sunday) and you're going to do what ?
-Steph