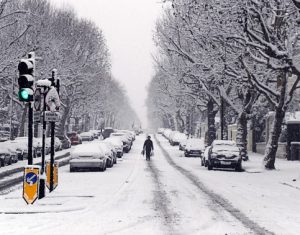 Temperature went down and I ride my bike with my scarf, my woolly hat and my gloves. Everyone looks at me strangely but they are all about to cough or blow their nose. For me, no way of getting sick or catch cold.
I read a Nerd Fitness article about winter  and I want to share it with you.
Throughout the year, we must fight to keep our lifestyle. We do our exercises regularly to have a better physique, we make food choices to have a better health and we build healthy habits to have a better lifestyle.
The Matrix's attacks

But when winter comes, The Matrix attacks us with an army :
Holidays are made for us to overeat with a culture that encourages us to eat too much sugar.
Shops make several discounts days to encourage us to buy things we'll not use.
Parties at work or at home where we drink too much and eat too much junk food. With our colleagues or our friends tell us, « You have to live a little ! ».
Christmas or New Year week where we do nothing, we spend our time on the couch watching TV shows.
Our family and friends who encourage us to do the same as them because « it's the holidays ! »
Winter is rain, snow, low temperatures and we prefer to stay warm at home rather than braving these elements of nature.
As you can see, we're in the holiday season and the rest of the world will be overcome by the Matrix's attacks by eating, drinking and buying. People will be paralyzed and they will not be able to protect their bodies until January 1st. This is why we must resist the Matrix's attacks to protect our progress we have made with our bodies.
Do you take the control of your destiny and you want to have a sedentary and unhealthy lifestyle that will make you die sooner ?
Our defense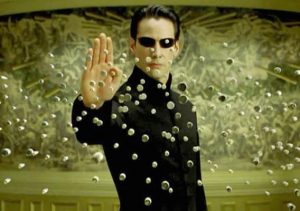 Tips to withstand attacks from the Matrix :
At least three training sessions per week and a healthy meal per day during the holidays. I don't expect that you're perfect because we're often invited to eat but do your best.
Never misses tow training's day in a raw. If you plan to train one day and you have to miss it because of travel or another reason, you train the next day. Each unhealthy meal will be followed by a healthy meal. No excuse, do it like champions.
The day after a big party is perfect to relax and eat a little more than usual healthy food.
The weather can't be used as an excuse. It's cold and it's normal for this time of year. That's why I put my scarf, my woolly hat and my gloves to go to the gym. No excuse !
This is the time to prepare for this war in this winter season. I'm sure you'll win.
Winter is coming, good luck !
-Steph
PS: Do you want a free training program? Click here