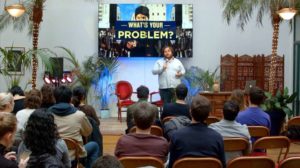 What's up ? This is THE stephane ANDRE !!! I watched an Olivier Roland's video  and I learned some good stuff.
2-3 years ago, I participated in Robert Kiyosake's « Rich Dad Workshop » , it's the author of « Rich Dad, Poor Dad ». I returned to this workshop a few months ago and the speakers were less dynamic than the last time. Besides, there is one person who made a classic mistake that we make during a presentation. This error is to display a text on a big screen and read it. It's really boring.
People read fast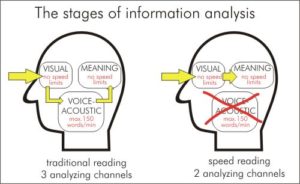 Reading a text that is displayed on a large screen in front of everyone is a bad idea because it breaks the presentation's dynamism. This creates a moment of flutter because you're disconnected from your audience. But, there is an even more scandalous reason that this one. Typically, people read between 250 and 500 words per minute while the average speech rate is approximately 150 words per minute. This means that people have already understood the text before you have read the half aloud. The bottom line is that people have to wait for you to finish reading the text aloud when they have already read everything and that is awful, pffffffff.
Most difficult thing in a presentation is to keep the audience's attention and reading aloud a text that is displayed doesn't create any surprise's effects. If you absolutely have to read a text during a presentation, read this text without displaying it on the big screen. It will not be the most excellent thing in the world but people will discover the content as you speak. In this way, the audience will be more likely to be attentive to what you say.
I don't know if you know but there is a little trick when we make a presentation with PowerPoint. In PowerPoint, it's possible to see the text before it appear on the big screen, it's Presenter View . With this configuration, there is a private monitor (your laptop) and a public monitor (big screen). This allows you to see in advance what the audience will see.
To improve the quality of my presentation, there is a very interesting book by Garr Reynolds « Presentation Zen » . With this book, you'll make cool presentation.
Subscribe to my newsletter and share this article if you think it can help someone you know. Thank you.
-Steph
P.S. If you're in Miami and you like Caribbean food, go to my cousin's bistro to eat Haitian food, click here.